At Eljemelo, (situated in Lynnwood Pretoria and Durbanville Cape Town, South Africa) we would like to think of ourselves as specialist breeders. We are dedicated to offering quality Biewer terrier and Yorkshire terrier (yorkie) puppies.
Our yorkie and biewer terrier babies are profoundly stimulated with our own developmental program. This unique way of handling pups have ensured a highly successful outcome in developing superior intelligence and unique personalities.
Our yorkie and biewer babies enjoy a jungle gym especially made for them. At the age of 6 weeks they already have a sense of height and can climb low stairs. They learn that hide and seek is a fun game to play.
Our babies have free access to our puppy safe garden assuring that they have the best possible start in life.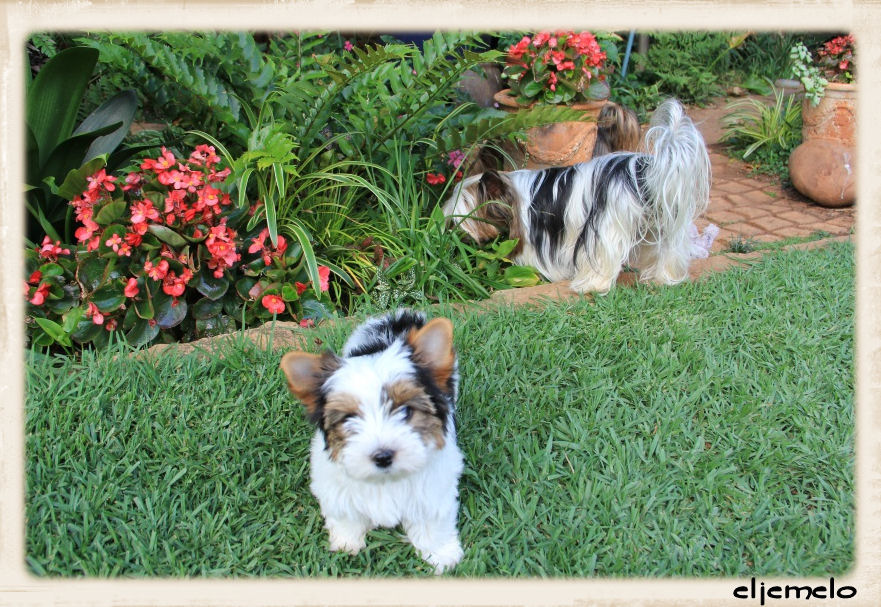 We think our Yorkies are still reasonably priced considering the extreme effort, time and expenses that go into producing and caring for the dam and litter.
Included in our offer is a well balanced yorkie or biewer terrier pup that is reared in our home and already accustomed to domestic noises and well socialized. Btcsa Registration. Virback Back Home Chip, because only the best is good enough for Eljemelo.
At the age of 6 weeks our yorkie and biewer terrier babies receive a full medical examination from my veterinarian and their 1st Nobivac vaccination. (Why Nobivac? They deserve the kiss of life.) Thereafter it will be the new owners responsibility to have the puppy vaccinated until all (2 more, every 4 weeks plus rabies and we suggest a vaccination against Bordetella, most vets neglect to give this very important vaccination) are complete.
Do not delay! Until the vaccinations are complete do not put your pup at risk by letting him socialize with other dogs but your own vaccinated dogs.
Our pups are dewormed with antizole, panacure and drontil. You will receive Drontil deworming meds to continue at home. Pups need to be dewormed every 2 weeks until they are 3 months old irrespective if they are infected with worms or not.
Our pups go home with a starter pack of Veterinary Formulated Hill's Science, precisely balanced nutrition. For the first few weeks do try to adhere to the breeders diet. Changing the diet immediately will only result in diarrhea. If you wish to change his diet at a later stage do so gradually.
Yorkies and Biewers love toys, the squeaky toy being a big favorite. Included is a favorite toy, Yorkie puppy safe chews and a winter warmer for the winter babies.
We have a 5 day return policy, which means that if you have to return the pup due to unforeseen circumstances or the pup simply cannot adjust (3 days), you may return the pup in the same condition as you received the pup for a refund. Please keep in mind that it is solely our decision to refund the holding deposit. Should your vet pick up a hereditary condition or a puppy of 6 weeks / 3 months is diagnosed with a life threating condition, a full refund will be given. No refunds are given on transport or flight charges unless a puppy is replaced by eljemelo then only we will carry the transport costs. BTCSA veterinary charges will be covered by us. All other vet cost will be for the new owner. In all the years we have only had two cases were puppies were replaced due to life threating conditions. It is not always possible to pick up a problem at 6 weeks when the pup visits the vet for a check-up and inoculation.
Remember there are many pet friendly hotels, B&B and holiday accommodation that welcome doggies. Take them with you, they also enjoy a break.
Brushing your Yorkie puppy will not only keep him tangle free and prepare him for grooming, but also stimulate the sebaceous glands which produces the oil that conditions the coat.